Conquests of the Longbow: The Legend of Robin Hood
Developer(s)
Sierra On-Line
Publisher(s)
Sierra On-Line
Director(s)
Christy Marx, Bill Davis
Producer(s)
Guruka Singh-Khalsa
Designer(s)
Christy Marx
Lead Programmer(s)
Richard Aronson
Lead Artist(s)
Kenn Nishiuye
Composer(s)
Mark Seibert
Platform(s)
MS-DOS, Amiga
Release
1991 (DOS)

1992 (Amiga)

Genre(s)
Point-and-click adventure
Mode(s)
Single-player
Conquests of the Longbow: The Legend of Robin Hood is a graphic adventure game designed by Christy Marx and published by Sierra On-Line in 1992. It is considered the second (and last) part of the Conquests series, which began with Conquests of Camelot. It features VGA graphics and uses Sierra's standard icon-driven interface first seen in King's Quest V.
The player assumes the role of the legendary Robin Hood in his efforts to restore King Richard I to the throne of England. To do so, he must collect enough money to pay the king's ransom while avoiding the efforts of the Sheriff of Nottingham to capture and hang him and all his men.
Gameplay
[
]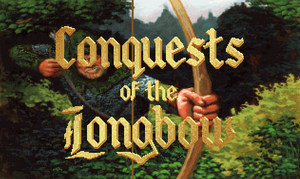 Most of the game takes place in a standard adventure game mode, walking between screens and interacting with characters and objects through clicking icons on them. For navigation between screens, the game has several hotspots built into a map. There are also minigames involving archery, combat or Nine Men's Morris with adjustable difficulty.
The game is divided into 'days', each day ending with a recap of its events and discussion of the plot. Each day involves certain actions that must be completed before advancing, though it is possible to leave vital tasks undone that make parts of the game difficult or impossible later.
The game keeps track of the size of Robin's band, with a small number of opportunities to recruit new members, and a few chances to get them killed. There are 2 opportunities to launch raiding missions throughout the game, and having a sufficiently large band as well as using an effective strategy are necessary to succeed.
Depending on how well the player does, there are a number of endings, ranging from Robin being hanged for his crimes, to being knighted and getting married to Maid Marian.
This game is no longer being produced by Sierra, though a copy of the program may be downloaded from Christy Marx's personal website though this is of dubious legality (as Sierra still owns the rights to the game).
Development
[
]
See Conquests of the Longbow Development.
Eater Eggs
[
]
There are few interesting Easter eggs in the Conquests of the Longbow game. See the Conquests of the Longbow Easter eggs page for the lists.
Amiga Bugs
[
]
The game will flag the peasant woman as dead even if you rescue her.
Robin will not earn a noble title and win Marian's hand in marriage even when fulfilling the correct choices.
Credits
[
]
Lead Design: Christy Marx
Executive Producer: Ken Williams
Creative Director: Bill Davis
Director: Christy Marx
Producer: Guruka Singh Khalsa
Music Director: Mark Seibert
Synthesized Score & Sounds: Ken Allen, Christopher Braymen, Orpheus Hanley, and Aubrey Hodges
Lead Programmer: Richard Aronson
Additional Programming: Juan Carlos Escobar and Brian K. Hughes
Programming: Vana Baker, Robert Fischbach, Cynthia L. Goff, Yoko Hayashi, J. Mark Hood, Robert L. Mallory, Todd Powers, Krishnan Shankar, Pablo Ghenis, and Krishnan Shankar
Art Designer: Kenn Nishiuye
Background Art & Animation: Ernie Chan, Terrence C. Falls, Eric Kasner, Gerald Moore, Frances Anne Powell, Al Roughton, Arturo Sinclair, Diana Wilson, Deanna Yhalkee, Nathan Larsen, and Tamra Dayton, Jay Allan Friedmann, Jerry Jesserun, Dana Moody, Roger Hardy Jr., Phyllis Cucchiara, and Teresa D. Tidd
QA Team: David Artis, Robin Bradley, Michael Brosius, Joe Carper, Dave Clingman, Keri Cooper, Gary Cox, Judy Crites, Bill Davis Jr., Max Deardorff, Brian Doig, David Fleming, Matthew Genesi, Mike Harian, Jason Hickingbottom, Bill Hilton, Rose Lewis, Diana Mulligan, Gordon B. Owens, Joseph Perry, Mike Pickhinke, Roger Pyle, John Ratcliffe, Victor Sadauskas, Daniel Scott, Sharon Simmons, Susan Simmons, Sharon Hoban-Smith, Douglas Wheeler, D. J. Williams, and Danny A. Woolard
Development System: Jeff Stephenson, Robert Eric Heitman, Dan Foy, Larry Scott, J. Mark Hood, Eric Hart, Mark Wilden, Christopher Smith, Terry McHenry, Chad Bye, Ken Koch, John Rettig, John Crane, Steven Coallier, Randy Moss, Corey Cole, and John Hartin
Sound Effects: Mark Seibert
Combat System: Douglas Herring and Richard Aronson
Manual Writer: Christy Marx
Manual Design: Gloria Garland
Manual Illustrations: Gloria Garland, Nathan Gams, Cheryl Sweeney, Bill Davis, John Shroades, Ernie Chan and Al Roughton
Amiga Quality Assurance: Bill Davis Jr. and Max Deardorff
Amiga Art: Max Deardorff
Amiga Music: Neil Grandstaff and Aubrey Hodges
Amiga Programming: Jerry Shaw and another Amiga programmer who doesn't want his name mentioned.
Manual and Guides
[
]
Conquests of the Longbow Manual

Conquests of the Longbow: The Legend of the Longbow Hint Book
Patches
[
]
Conquest of the Longbow (LBPAT): Version 1.0 only. This patch disk will resolve the following issues that you may encounter while playing Longbow:

Fixes the "1535.TEX not found" error message that occurs if Robin orders a drink in the pub.
Corrects a looping problem that will sometimes occur when Robin talks to the Green Man.
Some game players will not be given time to hide from the Sheriff's men in the forest the second time.

Conquests of the Longbow (LONGBOW_NRS): This non-Sierra update is one of NewRisingSun's script level timer bugs patches. Fixes some animations (i.e. Robin's head) NOTE: Previous saved games will work only if they were saved in an area whose script code is not affected by the patch.
External Links
[
]